CERENA participated at Ciência 2018 (2-4 July) with talks, demonstrations and posters by PhD students.
On the first day (2nd of July), CERENA's researchers Cristina Fernandes, Maria Cristina Vila and Moisés Pinto presented talks at the  session concerning Responsible Consumption and Production- Sustainable Development Goal (SGD) 12.
On July 3rd CERENA showcased Demos related with SGD 12
The posters from CERENA's PhD students Carla Rocha, Eduardo Barrela, Marta Martins  and João Vermelho Neves were exhibited throughout the event .
The titles of the works presented are listed below.
Talks:
Produção e Consumo Sustentáveis – SDG.12
Consciencialização e Gestão de Consumo
Manual de Eficiência Energética para a Indústria –Henrique Matos, Cristina Fernandes, Clemente Pedro Nunes
Redução de Resíduos
Bio-mineração: do laboratório à implementação industrial- Maria Cristina Vila
Remoção seletiva de dióxido de carbono de correntes gasosas com materiais adsorventes- Moisés Luzia Pinto
Demos:
Sequestração geológica de CO2 para a melhor gestão de recursos naturais– PI: Leonardo Azevedo
Desenvolvimento de uma plataforma química sustentável– PI: Rui Galhano
Posters
The Cabeço de Vide Mineral Waters (Central Portugal) as a Matural Analogue for …Mars: Microbial Signatures– Carla Rocha
Enhancing the Exploration of the Model Parameter Space on Geostatistical History Matching– Eduardo Barrela
Pyrolysis of forestry waste for Energy Recovery– Marta Oliveira Martins
Uncertainty Integration into Dynamic Mining Reserves– João Vermelho Neves
Cristina Fernandes
Manual de Eficiência Energética, Talk by Cristina Fernandes
Maria Cristina Vila
Moisés Pinto
CERENA Demos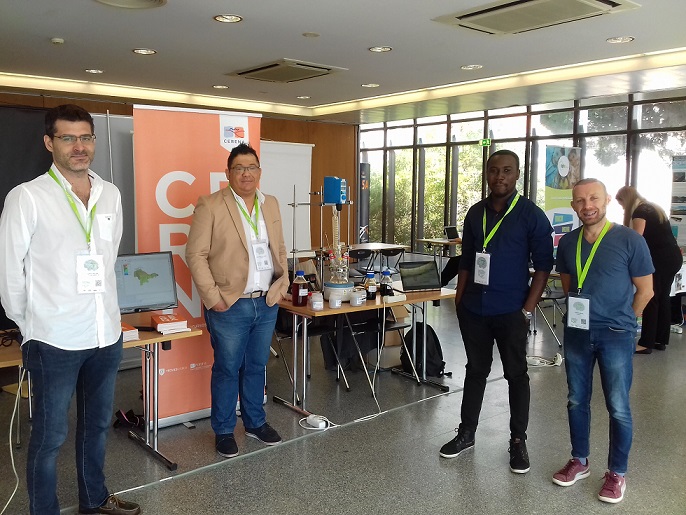 From Left to Right: Eduardo Barrela, Rui Galhano, Fabusuyi Oluwatosin John, Sandro Matos
João Vermelho Neves (on the left), Fabusuyi Oluwatosin John (at center) and Eduardo Barrela (at the right)